President's Column - December 2021
Kia ora koutou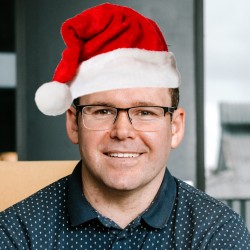 In this issue we are excited to announce our theme for ILANZ Conference 2022: 'Whakapuāwai - Flourish'.
We speak with David Browne, Greenwood Roche Private Sector In-house Lawyer of the Year 2021 and hear his call for in-house lawyers to help us celebrate excellence and leadership in in-house practice by nominating a deserving lawyer or team. We also give an update on the Select Committee's recommendation regarding the Lawyers and Conveyancers (Employed Lawyers Providing Free Legal Services) Amendment Bill.
ILANZ Conference 2022 theme: Whakapuāwai | Flourish


When: 5 & 6 May 2022
Where: Te Pae Christchurch Convention Centre
Registrations open: 17 January 2022
After living and working in a different (and at times difficult) world over the last couple of years, in-house lawyers and teams have adapted to unprecedented organisational and personal changes and challenges. At ILANZ Conference 2022, we're laser-focused on delivering a wide-ranging programme that meets the needs of in-house lawyers and delivers a unique mix of personal and professional development opportunities. The theme – Whakapuāwai | Flourish – is about equipping you to embrace emerging challenges. Equipping you to better understand the evolving legal and organisational landscape. Equipping you to be a better lawyer, professional and person.
If you have an idea, topic or speaker suggestion for ILANZ Conference 2022, we'd love to hear from you! Please email [email protected] with your suggestions.
ILANZ Conference 2022 MC: Wilhelmina Shrimpton


I'm very pleased to announce our MC for ILANZ Conference 2022 is Wilhelmina Shrimpton. Wilhelmina is an experienced journalist and MC who has connected with people and reported from all over New Zealand through her years of experience in radio and TV. We're looking forward to having Wilhelmina's energy and experience bringing the event together next year. [Photo of Wilhelmina]
ILANZ Awards 2022


This year, we've revitalised the ILANZ awards to streamline the nomination process and introduce some fresh new awards. One award we are particularly excited to introduce to you is the People & Culture Excellence Award. This award recognises an in-house legal team that fosters and prioritises best practice in team culture within their team and wider organisation.
For awards criteria, nomination form and our new terms and conditions, visit our website. Nominations close on Friday, 25th February. Send your completed nomination form and attachments via email to: ILANZ Awards Committee, c/- Anita Rhodes, ILANZ Manager: [email protected]
Winners for the ILANZ Awards 2022 will be presented at the Gala Dinner and Awards Ceremony to be held on Friday 6th May 2022 at the Te Pae Christchurch Convention Centre.
Law reform


Yesterday, the Select Committee reported back on the Lawyers and Conveyancers (Employed Lawyers Providing Free Legal Services) Amendment Bill and it was recommended the Bill does not progress. The ILANZ Committee provided input and commentary in support of the Bill as part of the New Zealand Law Society's response. The would have allowed in-house lawyers – representing 1 in 4 lawyers in New Zealand – to give back to our communities and improve access to justice through the provision of pro bono legal services. This is a missed opportunity and, like many of you, I am disappointed that the Justice Committee has opted not to proceed with this bill.
You can view the Select Committee's full report here
Meri Kirihimete and happy holidays from the ILANZ Committee
In behalf of the ILANZ Committee, I wish you a safe and happy holiday season and encourage you to take the time to relax and recover over the summer. After quite a tough few months (especially for our Auckland members), it is especially even important that we take time for ourselves, to reconnect with family and friends, and to recharge over the break.
We look forward to catching up with you all next year.
Connecting together – upcoming events:


Beating the 3pm Slump, Bronwyn Hudson, Founder of Fuel Your Wellbeing - 3 March 2022. Invitation will be sent out early 2022.
ILANZ is working on an awesome programme of events for 2022 and as always would love to hear from our members for new ideas and topics relating to in-house lawyers. Get in touch with us at

[email protected]

.
Noho ora mai rā / Take care
Grant Pritchard