A chat with 2023 ILANZ Public Sector In-house Team Award Winners, Dunedin City Council
A chat with 2023 ILANZ Public Sector In-house Team Award Winners from Dunedin City Council.
The team: Karilyn Canton, Candy Yoo, Nadia McKenzie and Eleanor Bunt
How did it feel to win the Public Sector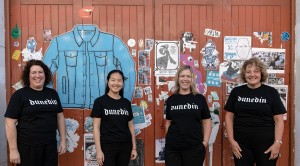 In-house Team of the Year Award?
We were very happy and honoured to win the award. It felt like recognition for a lot of hard work and dedication. The finalists in our category were all top teams. We were not expecting to win, particularly as we are a relatively small team, but it was great to be recognised for the value that we add to Dunedin City Council!
What was your 2023 Conference highlight?
Meeting with people, and hearing the speakers (particularly Justice Whata who was superb). It was great to talk with people in similar roles, and to hear what different people are doing. The whole conference felt very collegial.
Over the past year, your small team of four have been involved in a wide range of matters – from multi-million-dollar contacts to "dogs and parking." What is a project or achievement that stands out amongst the team?
There are lots of matters that we've been involved with in the past year, but the one that probably stands out is the purchase of Foulden Maar (an internationally recognised geological site). We are particularly proud of this as it involved complex commercial and mining issues, complex Public Works Act advice and lengthy negotiations. Foulden Maar is a site of international significance as a treasure trove of fossils and as a climate record. There was widespread public opposition to the site being mined, and great support when Dunedin City Council managed to buy the land so that it could be protected for environmental and scientific research purposes.
You have been praised for your ability to relay complex legal advice in 'plain English' to staff. What advice would you give to a team struggling to explain risks and /or connect with the wider business?
We think the most important thing to being able to explain something in 'plain English' is to understand the topic fully ourselves. This includes understanding the legal issues but also the context (eg how the issue fits within the organisation and the size of the issue relative to other issues within the organisation). This means that there is real value in speaking with staff from across the whole organisation and learning what they do.
Every organisation will be different, but our advice is to be approachable and to take the time to get to know staff and the wider issues. We also avoid using legalise. Sometimes our advice borders on being blunt, but staff seem to appreciate this as they are wanting clear and direct advice (as opposed to something that is obtuse or overly qualified).
Lastly, we need to know how your team earnt the name 'KC and the Sunshine Band'!
This came about because it's Karilyn Canton's initials, and Karilyn is often called KC around the Council. KC and the Sunshine Band is a 1970s disco band that sings "That's the way I like it". Someone in Council called us "KC and the Sunshine Band", and somehow the name stuck! Most of our team can remember when the band's songs came out... but their music was new to our junior lawyer.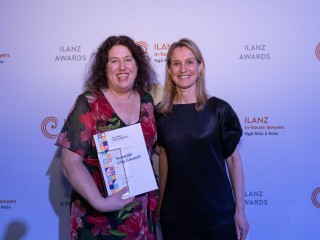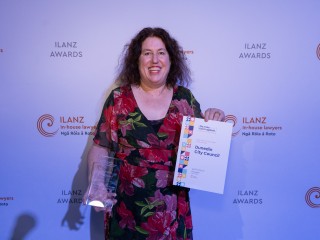 Karilyn Canton, Chief In-House Legal Counsel at Dunedin City Council, accepting the award on behalf of the team, with Katie Rusbatch, CEO of New Zealand Law Society.

The ILANZ Awards are presented at our Annual Awards Dinner, following the ILANZ Conference. This year's Awards Dinner was sponsored by Niche Recruitment.