A chat with 2023 Sole In-house Counsel Award Winner, Jack Lynskey
A chat with 2023 Sole In-house Counsel Award Winner, Jack Lynskey, Head of Legal, Compliance and Conduct at Wealthpoint.
How did it feel to be the first recipient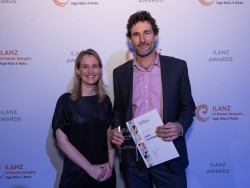 of the Sole In-house Lawyer of the Year Award?
I was delighted! You don't win many things so I was pretty chuffed.
What was your 2023 Conference highlight?
I met some great people and bumped into some old friends and faces - some I hadn't seen for 15 years. As always the speakers were excellent.
You were the 3rd employee hired at Wealthpoint and have been instrumental in their development. What aspects of being involved with a 'start-up' company did you find most enjoyable?
I loved the contrast to working in a large established organisation, which was my background. A lot of our meetings in the first few months were standing around a white board thinking we 'could structure it this way... or things that way' which was fun.
And what did you find most challenging during this growth period?
Probably keeping your confidence, up to be honest, and being comfortable with what you are doing / decisions you are making. As a new organisation we didn't have lots of money to spend on external assistance so at times it felt a bit, not lonely but at times it is easy to second guess yourself. However I was really fortunate to be working with some top quality people in the industry.
What would you say to someone thinking about nominating themselves or a co-worker for an ILANZ Award?
Go for it! Its obviously a great way an organisation can show they value someone. Everyone loves when someone wins something and the boost you get from people just saying "congratulations" is amazing!

The ILANZ Awards are presented at our Annual Awards Dinner, following the ILANZ Conference. This year's Awards Dinner was sponsored by Niche Recruitment.