Interview with 2022 MAS New In-house Lawyer of the Year - Fraser McCallum
Fraser McCallum, Graduate and Privacy Officer at Silver Fern Farms.


How did it feel to win the MAS New In-house Lawyer Award?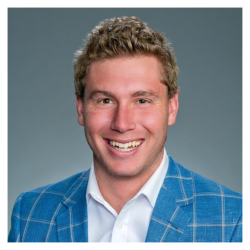 At first, I was both shocked and humbled! When I found out I was a finalist I thought that was an amazing achievement and felt fortunate to be next to the other finalists. Considering the caliber of the other finalists, I thought I had no chance. Unfortunately, I was overseas on a holiday during the conference, and it was a shame not to be there. When Melissa, our General Counsel and Company Secretary at Silver Fern Farms, called to tell me the good news, I was gob-smacked!
Melissa accepted the award on your behalf, saying "I am sure Fraser would thank me and say this win is down to me being an excellent mentor" in good fun – did you hear about this?
I heard she gave a brilliant speech, and in true Melissa fashion – she represented me very well! I wish I could have seen a video because I know it would have been priceless. Even though I know she was joking, she's dead right. It's her (and many other people at Silver Fern Farms) tutorage and leadership that have given me opportunities that allowed me to be so successful. It's as much a Silver Fern Farms award, as much as it is mine. It's a team effort and I was thankful she was there to accept on my behalf because she deserved to.
What brought you in-house?
Initially I was set on private practice beca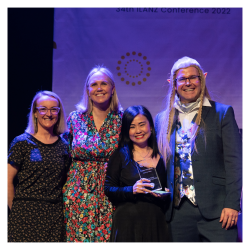 use I thought you needed that experience to go in-house. After spending a year over in the states studying master's in law, I came back around Covid times, and it was dire. After the lockdowns finished, it was a tough time looking for jobs as no one was hiring. I would email firms, and most wouldn't reply. Then one day I bought a suit and took to the streets of Dunedin, giving out my CV to law and accounting firms – and that's when I found Silver Fern Farms. I handed my CV to the receptionist; Melissa gave me a call and I started on a 3-month contract looking at all the privacy stuff.
I'm glad I found my way to Silver Fern Farms because we are such a small team, meaning you get thrown in deep end and learn quicker. Compared to some of my mates in private practice, I've had a lot more exposure. No day is the same.
How much did you rely on the support of other employees when you started out?
Hugely! I hadn't practised before starting at Silver Fern Farms in August of 2020. I needed a lot of guidance and mentorship - and still do - I think everyone does. I've been lucky with the opportunities Silver Fern Farms have given me, not just in the legal realm, but across the whole business. Understanding the bigger picture and other commercial outcomes helps you to give the best legal advice you can.
Why did you decide to study law?
Law was always something I was interested in, being relatively analytical and enjoying English in school. When you finish school and don't have the experience and wisdom needed to make key crucial decisions that will impact your life, I feel studying law is a safe bet. You're not putting yourself in a corner where you are limited in what you can do.
I enjoyed studying and now I can see just how valuable the degree is – obviously I can do the legal work, but working at Silver Fern Farms has given me great opportunities to work with the operations team, sustainability and risk team, supply chain team. I think law is almost a degree of life as it's applicable to anything – unfortunately, I just can't be a doctor!
What advice do you have for new In-house Lawyers?
I think early in your career it's all about relationship building and leading with influence. In my role I'm still deemed a graduate but I'm fortunate to work with a range of people within the business from the executive team to people on the processing floor. No matter who they are, you need to go out there and make an effort to understand what their needs and pain points are. Once you have built that rapport and people have trust in you, they will come to you for help and advice.
It's also important to be approachable. When you are helping people, you've got to be pragmatic – people don't want to read legal jargon, it's got to be understandable. As soon as you can give advice and help people at a level they understand, it makes life a whole lot easier.
As a new lawyer, what challenges do you face?
I think the challenge you have is that people often see you as a handbrake rather than somebody who is there to support. Our job is to assist and support as much as we can by pointing out the risks and creating solutions to mitigate that risk, which allow projects to get done.
So, I think that all comes back to your personal brand and the relationships you build early on within the organisation – communication is key. Providing clear advice to work with them, not against them.
What would you say to someone thinking about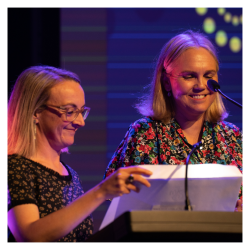 nominating themselves or someone else for an award?
I think you've got nothing to lose! Regardless of the outcome, you get a great sense of achievement looking back on the things you've accomplished. It's a special experience so go for it!
The 2023 ILANZ Awards nominations are open until Friday 31 March.