Tuesday 4 October

If you are arriving in Christchurch on the Tuesday, why not join us for a welcome drink at The Christchurch Town Hall. There will be drinks and canapes, and a welcome address by the ILANZ committee. The perfect opportunity to get settled in and meet your fellow conference goers.

Welcome Function at The Christchurch Town Hall in The Limes Room, 5 - 7pm
86 Kilmore Street
Christchurch Central City
Christchurch 8013
Best access walking through the Victoria Square garden (from Te Pae), passing the beautiful water fountain display shown below, enter through doors closest to fountain.
Click here to view on google maps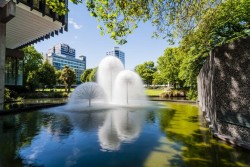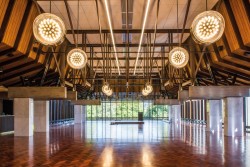 Wednesday 5 October

On the Wednesday evening, we will be heading to The Tannery for the Thomson Reuters Function. Re-discover grandeur in Christchurch, inside the Atrium, at the Tannery. Influenced by the architectural and aesthetic craftsmanship of by-gone eras, you will experience an un-paralleled atmosphere and truly memorable night.
Join us for a wonderful evening of local food and drink, activities and entertainment plus ample opportunity for catching up with your peers and making new connections.
Dress code is smart/casual.
Buses will be departing from Te Pae promptly from 6pm in 15 minute intervals until 6:30pm - and returning from The Tannery to Te Pae from 8:30 - 9:45pm.

The Tannery, in the Atrium, 6.30pm - 9.30pm
3 Garlands Rd
Woolston
Christchurch, NZ
Click here to view on google maps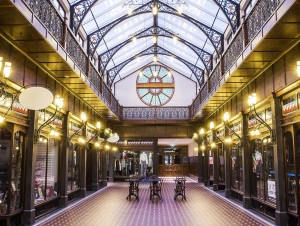 Thursday 6 October

On Thursday night we will celebrate with the Niche Gala Dinner and Awards Ceremony in the brand new Te Pae Conference Centre. There will be a pre-dinner drink in the lobby of Te Pae from 6.45pm. Gala Dinner and Awards from 7:20pm till late.
Dress code: In keeping with the theme – Whakapuāwai | Flourish, the theme for the dinner is: The Secret Garden. The Gala Dinner has always been a dress up event, and there will be a few different prizes for costumes on the night – including individual and team prizes.
Costumes can be as elaborate or as simple as you like – you could simply add an accessory like flowers in your hair.
As always, delegates are welcome to come dressed in business, formal or cocktail attire.

Main Plenary Room, Te Pae Christchurch Convention Centre
Christchurch Central City
Christchurch 8011
Click here to view on google maps

Note: Please refer to our Conference FAQ page for more information relating to attending Conference.