The Niche Recruitment Gala Dinner and Awards Ceremony was held on Thursday 6 October at Te Pae Christchurch Convention Centre. This was the perfect way to end our sold-out 2 day conference, and come together as a profession to celebrate the excellence and leadership being shown by in-house lawyers and teams from across New Zealand.
Congratulations to the 2022 ILANZ Award finalists and winners below.
MC Public Sector In-house Lawyer of the Year Award
Finalists:
Ala Sonti, Manager, Public Trust Retail Legal Team
Ben Hamlin, Chief Legal Counsel, Competition Legal Commerce Commission
Lisa Brown, National Prosecutions Manger (Acting), Ministry for Primary Industries
Winner:

Lisa Brown
Central and Southern Regional Manager (Prosecutions)
Ministry for Primary Industries

Lisa is motivated, tenacious and organised. She drove improvements and efficiencies that are helping prosecutors to better support MPI's compliance strategy. With a team dispersed across the motu, Lisa has provided thoughtful leadership, and has gone above and beyond to care, encourage and help her team succeed. She has shown an impressive understanding of the breadth of the work and priorities of MPI's many business units. Alongside this, she has made room for Te Reo study and giving back to the wider legal community.

Thank you to our sponsor, Meredith Connell.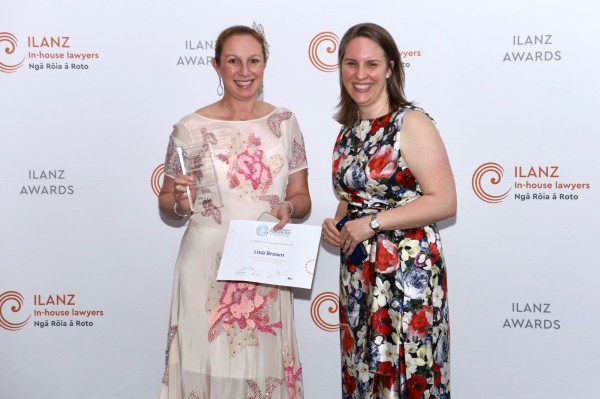 Greenwood Roche Private Sector In-house Lawyer of the Year Award
Finalists:
James Radcliffe, General Counsel, Woolworths New Zealand
Patricia Green, Associate General Counsel, Z Energy
Sarah Retter, Head of Legal, Fujitsu New Zealand
Tom Thursby, Head of Legal and Regulatory, Vodafone NZ
Winner:

Sarah Retter
Head of Legal, Fujitsu New Zealand

In addition to leading Fujitsu's legal and compliance function, Sarah leads the office of purpose for Fujitsu - driving diversity, equity and inclusion - and helped implement a Māori and pacific peoples inclusion plan in August 2021. Sarah has been instrumental in helping standardize and improve Fujitsu's offerings and services across Oceania. In October 2021, Sarah was asked by the executive to step in as acting country manager, running the New Zealand business during a change in leadership. She took the challenge head-on and not only held the fort but developed new processes, galvanized the senior leadership team and brought a positive energy to the business during what could have otherwise been an unsettling time.

Thank you to our sponsor, Greenwood Roche.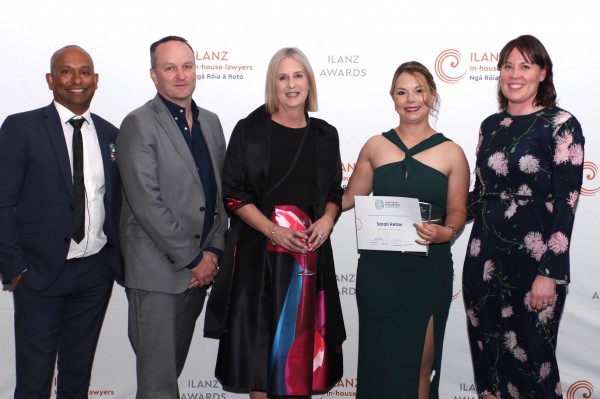 MAS New In-House Lawyer of the Year Award
Finalists:
Fraser McCallum, Privacy Officer, Legal Adviser and Graduate, Silver Fern Farms
Justys Vickers, Senior Legal Counsel, Litigation, Waka Kotahi NZTA
Samantha Allen, Prosecutor, New Zealand Police
Sivan Nathan, Group Company Secretary and Special Projects Executive, Perpetual Guardian Group
Susan Hur, Legal Counsel, GMP Pharmaceuticals
Winner:
Fraser McCallum
Privacy Officer, Legal Adviser and Graduate, Silver Fern Farms

With just under 3 years PQE, Fraser is an exceptionally brilliant young lawyer with strong business acumen. Fraser brings his strong intellect to all aspects of the business - from compliance, dispute resolution and commercial contracts, to updating global privacy practice in line with best practice and laws. Fraser is proactive, efficient and contributes significantly to Silver Fern Farms legal team and the wider business. Often thinking outside the box, Fraser supports stakeholders to transform often complex ideas into action through accurate, understandable and timely legal advice. Fraser shows excellent leadership potential, evident by him leading Silver Fern Farms global privacy compliance. He has been integral to many different legal projects - always putting Silver Fern Farms people and community first.

Thank you to our sponsor, MAS.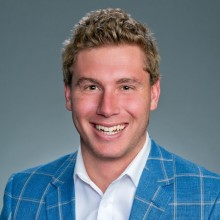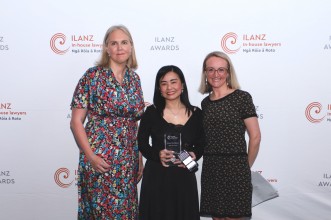 Tompkins Wake Small In-house Team of the Year Award
Finalists:
Callaghan Innovation Legal Team, Callaghan Innovation
Gallagher Legal Team, Gallagher Group
NZALPA Legal Team, New Zealand Air Line Pilots Association
Ngāti Whātua Ōrākei Trust Legal Team, Ngāti Whātua Ōrākei
University of Canterbury Legal Team, University of Canterbury
Winner:
University of Canterbury, Te Tari o te Pouroki
Established in late 2020, Te Tari o te Pouroki is the University of Canterbury's first in-house legal team. Building a full legal function from scratch in only 12 months, the team have rapidly innovated to implement user-focused processes and tools to support best practice governance, compliance and commercialisation. Building trust and influence, the team have established strong relationships with senior leadership and other internal stakeholders, quickly becoming trusted advisors and collaborators on strategic initiatives, including:
• transformative organisational sustainability and digital projects,
• funding and delivery of world-leading research and innovation,
• tangible programmes that activate UC's equity and Te Tiriti o Waitangi commitments, and UC's mana whenua partnerships.

Assisting UC to navigate a rapidly changing compliance landscape, the team have also collaborated with some of NZ's leading lawyers and firms to deliver excellence, operational efficiency and modern approaches to legal support.

Thank you to our sponsor, Tompkins Wake.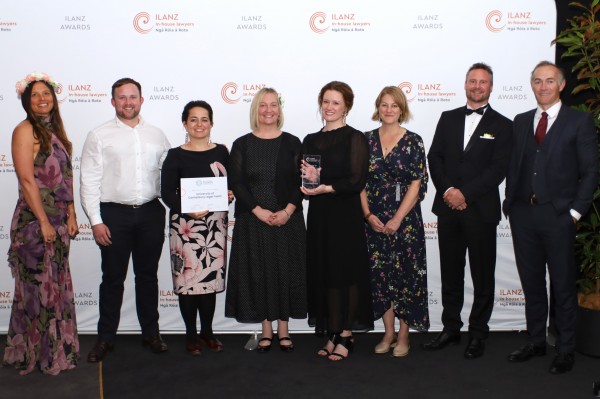 Chapman Tripp Private Sector In-house Team of the Year Award
Finalists:
Fonterra Legal Team, Fonterra
Woolworths Legal Services Team, Woolworths
Xero Legal Team, Xero
Winner:
Woolworths

Woolworths is Aotearoa's largest private sector employer, operating 185 Countdown supermarkets and 4 distribution centres. Woolworths is the franchisor for 71 SuperValue and FreshChoice supermarkets which serve over 3 million customers each week. Over the last year, the Woolworths legal team has played a pivotal role in navigating unique challenges brought by the COVID-19 pandemic requiring an 'all-of-system' response to keeping New Zealand's food supply chain operating. Ongoing engagement with Government, and responding to a high-profile Commerce Commission market study provided additional challenges, as well as the need for the team to deal with the effects of two acts of extreme violence in two of its Countdown stores. Faced with these challenges, the team can be proud of their role in working collaboratively to meet these and continuing to progress the legal work involved in operating such a large and complex organisation.

Thank you to our sponsor, Chapman Tripp.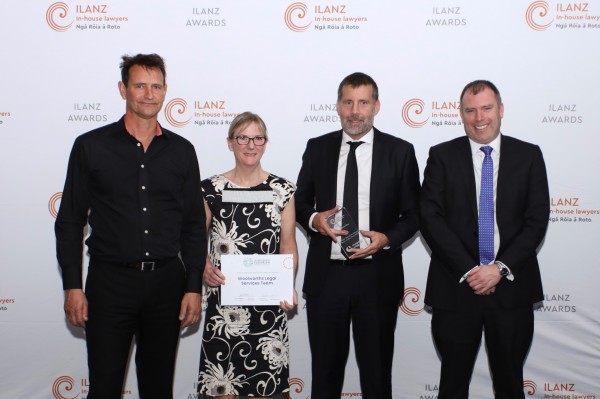 PwC Public Sector In-house Team of the Year Award
Finalists:
Competition Legal Team, Commerce Commission
Law Drafting Group, Parliamentary Counsel Office
Ngā Ratonga Ture | Legal Services, Auckland Council
Oranga Tamariki Legal Team (National Office), Oranga Tamariki - Ministry for Children
Winner:
Law Drafting Group, Parliamentary Counsel Office

New Zealand's public health response to the COVID-19 pandemic is widely regarded as world-leading. Government lawyers have played a key part in that success, and none more so than Parliamentary Counsel Office. During 2021, the progression of the pandemic was complex, with almost every COVID-19 initiative requiring some kind of legislation. The year saw the arrival of new variants, the delivery of the vaccine, new testing requirements, the start (and stop) of quarantine ­free travel, the switch from alert levels to traffic lights, and ever­changing border settings, to name only a few. Almost all these initiatives required the services of Parliamentary Counsel Office, partnering closely with other government lawyers.
Over the past year, Parliamentary Counsel Office played a proactive leadership role - performing under immense pressure, always collaborating, innovating, and seeking continuous improvements. This has been crucial to both the quality of the response and the rule of law in New Zealand.

Thank you to our sponsor, PwC.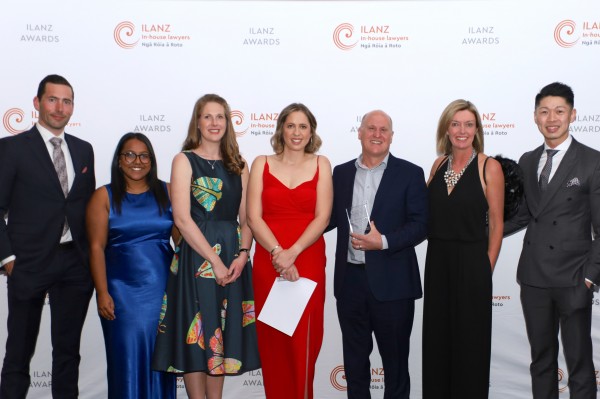 ComplyWith Community Contribution Award
Finalists:
Dr Maria A. Pozza, Senior Legal Counsel and Privacy Officer, NZ Post
Fujitsu New Zealand L&C Team, Fujitsu New Zealand
Sarah Thorner Crossley, Senior Lawyer at Zespri International Limited and Co-Chair of Film Bay of Plenty
Winner:

Sarah Thorner Crossley
Senior Lawyer at Zespri International and Co-Chair of Film Bay of Plenty
Sarah is a lawyer with over 10 years' experience specialising in media, intellectual property and corporate/commercial law. Sarah has voluntarily lent her skills to help grow the local film industry in the Bay of Plenty region and is currently the co-chair of the growing organisation. Film Bay of Plenty is a non-for-profit trust that carries out activities alongside, and in partnership, with other stakeholders to stimulate economic growth for the Waiariki region. This is achieved through film and screen production attraction and marketing, sector development initiatives, creation of studio facilities, as well as policy development, screen facilitation and assisting with permitting.
Thank you to our sponsor, ComplyWith.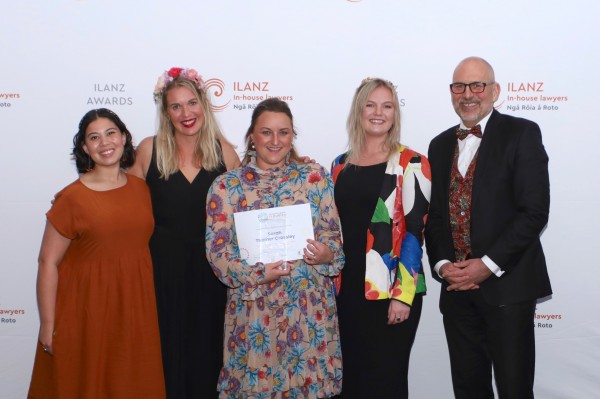 Artemis In-house Innovation Award
Finalists:
Ngā Ratonga Ture | Legal Services, Auckland Council
LIC Legal Team, Livestock Improvement Corporation
Spark Legal & Regulatory Team, Spark NZ
Winner:

Auckland Council, Ngā Ratonga Ture | Legal Services
In 2021, Auckland Council took a refreshing approach to business improvement by focussing on what was important and empowering themselves to make a real difference in how they work as a team and with their providers. They introduced initiatives that strongly demonstrate they are open to new and creative approaches that work best for Auckland Council. They undertook a market leading procurement process for legal services, using an integrated delivery model. The outcome has proven to be successful in achieving cost savings through shared resourcing, provided greater opportunities for the in-house team, and shining a bright light on advancing social outcomes by themselves and the profession. The team has also looked at their own systems and processes to ensure that they practice what they preach in the advancement of important social outcomes and giving staff a strong voice to inform the evolution their service.

Thank you to our sponsor, Artemis Recruitment.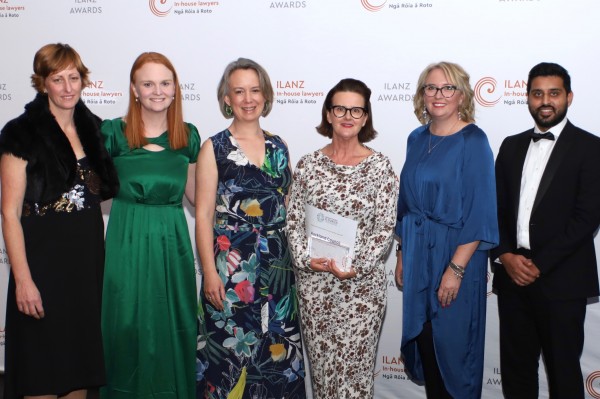 Simpson Grierson People and Culture Excellence Award
Finalists:
EnviroNZ Legal Team, Enviro Waste Services
Ngā Ratonga Ture | Legal Services, Auckland Council
Perpetual Guardian Legal Services, Perpetual Guardian
Te Puna Rōia, Te Tai Ōhanga | The Treasury
Waka Kotahi Legal Team, Waka Kotahi NZTA


Winner:

Auckland Council, Ngā Ratonga Ture | Legal Services

The foundation of the team's approach is to support the wellbeing and engagement of its people. This has been brought to life in 2021 through several initiatives, big and small, across the team; including its FY22 Business Plan, new Performance and Development Framework, mentoring programme, wellbeing champions, and menopause support group. Auckland Council continue to find new and different ways across the team to support one another. This is led from the top, with the thoughtful and empathetic leadership of the GC and the lead team. Auckland Council celebrates and promotes diversity and inclusion, and everyone can feel comfortable to be themselves.

Thank you to our sponsor, Simpson Grierson.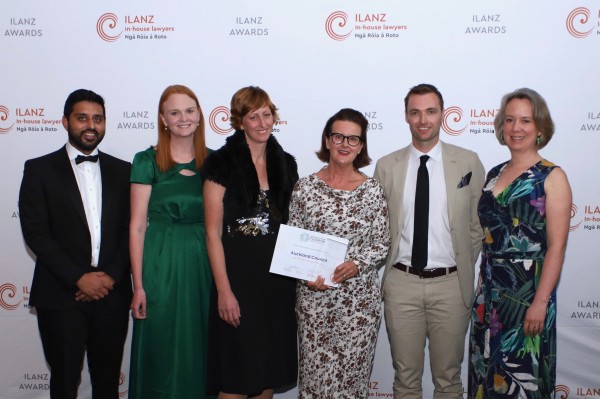 Congratulations to our Highly Commended in the below categories
Highly Commended Small In-house Team: Callaghan Innovation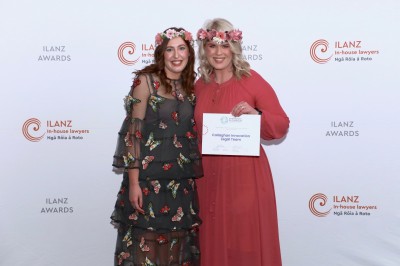 Highly Commended People and Culture Excellence: EnviroNZ Legal Team, Enviro Waste Services